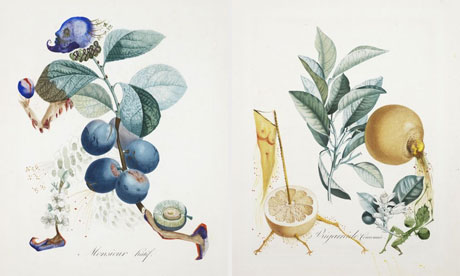 At a glance they seem like familiar 19th-century botanical lithographs, the type you see on endless hotel room walls. But look closer and the plum appears to be running away, the raspberries look embarrassed and the grapefruit … well, it's enough to make the viewer blush.
The 14 original watercolour fruit studies are in fact by the surrealist artist Salvador Dali and are remarkable because they have remained more or less hidden since 1969, the year of their creation.
"They are wonderful, wonderful things," said William O'Reilly, director of impressionist and modern art at Bonhams, the auction house that announced their sale on Wednesday. "One reason being they are so fresh and are absolutely unseen." They were commissioned in 1969 by the publisher Jean-Paul Schneider and then became a series of lithographs. The publisher kept the originals until they were sold in 2000 to an unnamed European collector who is now selling them.
Source: The Guardian newspaper